AVIDA ROCK

Caravan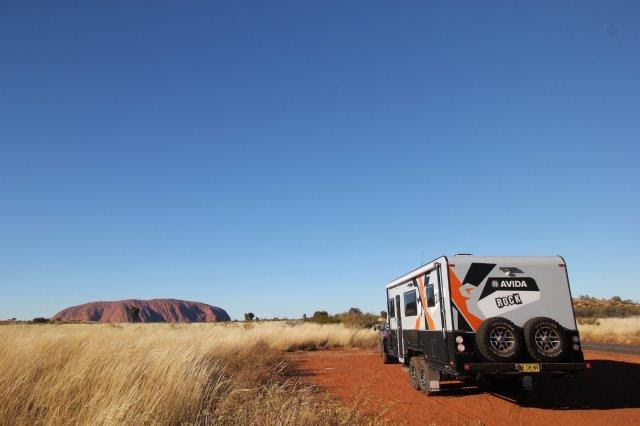 Don't just travel. Travel right. Australia encompasses a wide variety of biogeographic regions. Whether you're chasing a tropical savanna storm, a hot semi-arid outback trail or a temperate oceanic scenic drive the Avida ROCK can handle all different types of off-road terrain. Travelling can offer tantalising tales of far-flung adventures, where you can either follow where the path may lead you or go where there is no path and leave a trail.
There's no doubt that Avida's image has been on the rise since its re-launch of caravans in 2013. Six years on, they are certainly ready to carry an 'off-road' model in its range. With the reputation of its other models well cemented, the ROCK off-road caravan may just become your pick of the bunch.
The Avida ROCK is a superb looking machine in the flesh, showcasing a sense of style, whilst being coherent in design and the master of a rugged terrain. It is available in tandem or single axle and comes in three incredibly effective layouts, including a family bunk model so you can blend the comforts of a caravan with the off-road ability. It can comfortably sleep 2-7 people and has great functionality and flow in its design. It includes special considerations necessary to enjoy the space, i.e. acoustics, mood lighting, ultra-leather, strategically placed furniture and fixtures and other quality finishes that make it not only efficient but visually stimulating too.
The Avida ROCK rides on 16-inch alloy wheels and is reassuringly substantial in appearance, with its front and side walls wrapped in stone guard aluminium checker plate for extra impact protection. An impressive drawbar toolbox complete with shelving and slide-out trays, a jerry can provision and a mesh stone shield guard, with two extra-large rubber mud flaps to protect the undercarriage.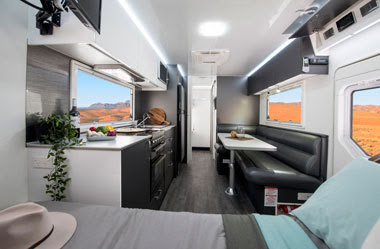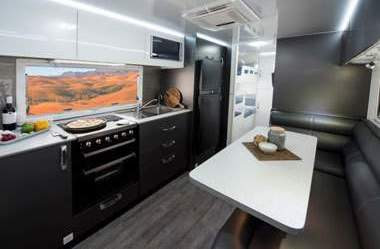 With solid underpinnings, the Avida ROCK has a factory fabricated hot dipped galvanised chassis for added strength, toughness and durability. This provides the ultimate in protection with the underbody floor sheathed in commercial grade aluminium sheeting to ensure long lasting easy to clean armour. This also enhances the velocity of airflow underneath which also improves the aerodynamic properties. It has swing arm independent suspension that is supple enough to retain a good ride and isolate any unwanted noise. With a fatigue strength better than any other chassis in the industry, minimal pipe work under floor, spring suspension, market leading load ratings, and dual bump stops to absorb the shocks of the more adventurous traveller, the ROCK allows you the freedom to decide how you want to control your ride.
The avid chef will love the premium kitchen with contemporary high-end contemporary cabinetry and soft close metal drawers, aluminium extrusion in overhead cabinets for strength and slide out pantries for clever storage. It includes a four-burner gas cooktop with grill, a microwave and a 190L 3-way fridge. A cafe style dinette with an adjustable table and a separate tap at sink with water filter makes this family-friendly van really start to tick all the right boxes.
The modern bathroom is well thought out and privately set at the rear of the van and opens via a solid door. It is ample in extent, with a full height moulded recessed shower, porcelain countertop basin, ceramic inlay swivel toilet and a 3.0kg top loader washing machine that is tucked away. With loads of cabinetry, you will feel right at home no matter how far you roam.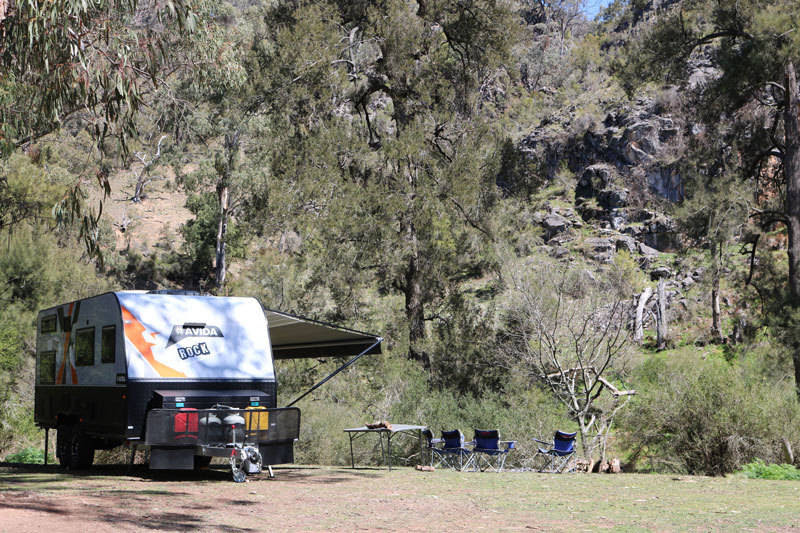 It boasts a multilayered queen size lift up bed on gas struts for more storage, full-length wardrobe so there's no clutter to be seen. Enormous windows throughout that capture plentiful natural light or you have the choice to darken your room for a better night's sleep with the block out blinds complete with retractable flyscreens. The neutral hues are the perfect starting point for any interior, providing the flexibility to personalise your space with layers of other neutral shades or by adding a pop of colour.
We will keep singing one's own praises and brag about the external surface mounted table with the optional impressive slide-out kitchen, pass through tunnel boot storage, roll out awning, integrated exterior LED's for atmospheric lighting, a radio aerial with booster, integrated display control for water tank and battery management, 2 x 9kg gas bottles, extended drawbar, a handy tap on the A frame, external hot water shower, fresh water and a grey water tanks, large waste pipes to allow for better flow and minimise blocking, mains water pressure reducer, and a LP gas leak detector.
Avida's Sales and Marketing manager remarked "The Avida ROCK really looks the part and will definitely stand out in the crowd. The ROCK is packed with all the luxury features for a comfortable off-road travelling adventure."
The Avida ROCK presents premium selections throughout. Other quality standard inclusions are the stylish 4-point security front door, USB enabled sound system with internal and external speakers, 2 x 120 deep cycle batteries charged by 300w solar panels, a "best in class" roof air conditioner for your enjoyment and comfort and a certified weight certificate ex-factory with every model. They say that the cars we drive say a lot about us, well so do the caravans we tow! So, if you are looking for an off-road caravan with a bounty of features, the ROCK is indeed a truly impressive all-rounder.