Rod Chapman from Caravan & Camping Sales was lucky enough to take an Avida Longreach away for a weekend. See what he had to say about it in his review.
For those willing to step up to a Medium Rigid truck licence, this 9.6m long motorhome ramps up both the space and comfort
Having recently spent a weekend away in a modest camper trailer, the luxury and sheer space of Avida's Longreach motorhome was quite a contrast, to say the least. But if you have the means to get behind the wheel of one of these C-Class giants, why not? Actually, you'll need more than a robust bank balance – you'll need a Medium Rigid truck licence too. The Longreach is built upon an Isuzu NQR cab/chassis and, with a gross vehicle mass (GVM) of 8700kg, it's well over the car-licence limit of 4500kg.
However, make the jump and you're set to enter a new world of RV comfort. The Longreach measures 9.6m from tip to tail – take just 1.6m from that for the cab, and the rest is living space. It measures just under 2.5m across but the two slide-out sections – one for the living area and one for the bedroom – expand on this significantly. The camper trailer is suddenly looking a little low-rent…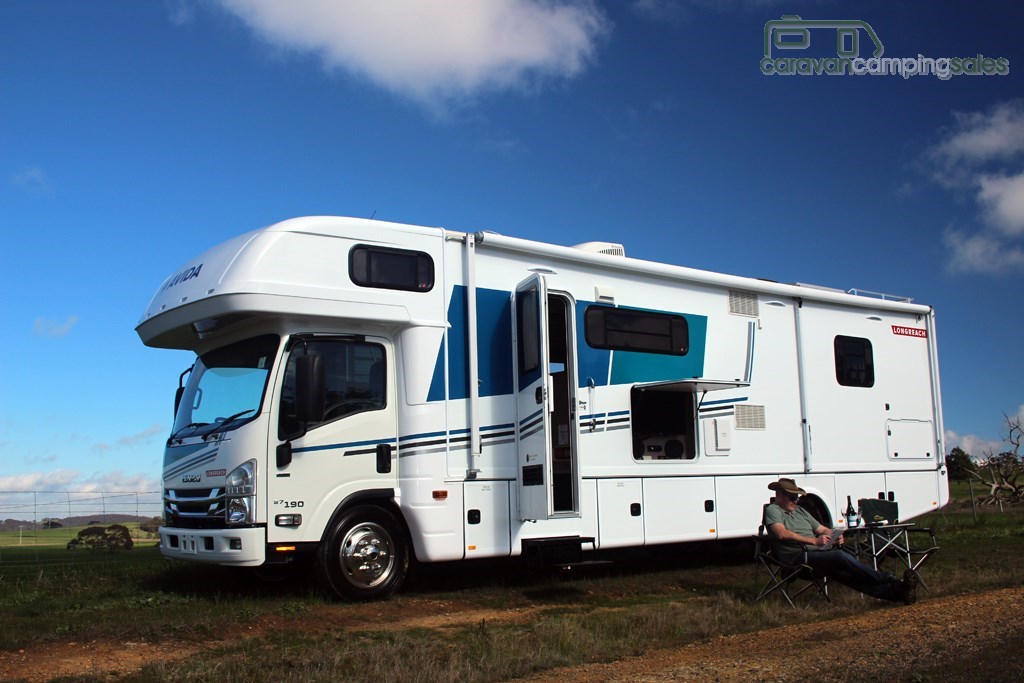 TRUCK TOUGH
Powered by a 5.2-litre four-cylinder turbo-diesel engine good for 186hp and 510Nm, Isuzu's NQR falls at the heavier end of the Japanese manufacturer's light-duty N Series range, and on the road it provides ample grunt to get the Longreach's ample mass motoring.
For those new to trucks it's actually a remarkably easy beast to manage – the steering is light but secure while the six-speed automated manual transmission shifts smoothly and cleanly.
This is a 'robotised' manual tranny – not a true auto – so it's a two-pedal affair, with no clutch. We were happy enough to leave it in auto mode for the most part but flicked the lever across to 'manual' mode to hold a gear through some of the steeper climbs in the countryside to Melbourne's north.
Of course it's happiest out on the open road and parking is a calculated affair – helped to a degree by the reversing camera.
The cab itself is pretty comfy and certainly spacious, but it's a truck and it can't hide its commercial focus. Some more cup and bottle holders would be good, although the seating was comfy and Isuzu's DAVE (Digital Audio Visual Equipment) unit brings with it sat-nav, a DAB+ digital radio and more.
A couple of rattles emanate from the living quarters at around-town speeds, but cruising down the highway these settle down to produce a reasonably quiet ride – not as quiet as your average passenger car, but entirely acceptable for long-range running.
Speaking of, the Isuzu is fitted with a 140L fuel tank. This Longreach was brand new and so its trip computer still hadn't settled on a steady average fuel figure, but we'd think around 22L/100km wouldn't be outlandish for a vehicle of this size and weight. That equates with a safe range of approaching 600km.
Okay, so that's the engine room, now let's get to grips with the palace out back. Because in RV terms that's what it is – a palace.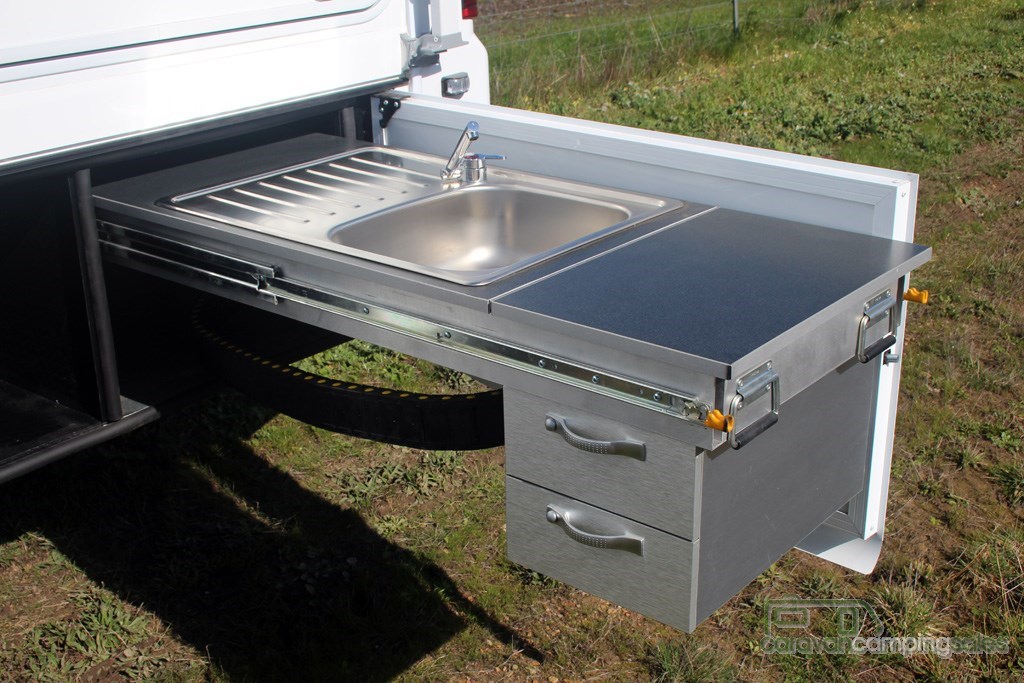 ALFRESCO LIVING
Outside on the nearside can be found all the accoutrement for outdoor living. There's a massive Dometic awning with three supports for shade and shelter, plus – at the rear – a slide-out kitchen with sink and flick/mix tap.
Near the kitchen is a Waeco fridge and a washing machine, plus room for a slide-out barbecue.
Just aft of the Hehr door with Kwikee auto steps is a hatch housing a large flatscreen TV, twin speakers and an entertainment unit, while either side of the door are compartments for the rig's batteries – one for the truck and a slide-out bank of three for the house.
The electrics in general are impressive. With dual 12V and 240V power systems, there's a Victron Energy charger and inverter, a Redarc charger for the batteries and, for living off the grid, two 80A solar panels on the roof and a 3.6kVa Onan generator (stored in an offside compartment, next to the two 9kg gas bottles).
Internal access is aided by the aforementioned auto steps and sturdy grab rails, whereupon you're greeted by an immediate sense of space and comfort.
There's a master power-switch over the door – far faster than having to switch each electrical item on or off independently upon leaving or entering the living quarters – and LED lighting throughout, from subdued mood lighting to reading lights, downlights and more.
Add in the abundance of hatches and panoramic Hehr windows and the Longreach is generally filled with light, although it's a little darker through the mid-section around the ensuite.
Just the one basic floorplan is available, with a front double bed over the truck cab, a centrally located lounge/dinette/kitchen, and a rear bathroom and master bedroom with east-west bed. In fact the options for the Longreach are relatively limited, extending largely to fabrics and external cosmetics.
Leather dinette seating can also be specified as can a storage unit instead of the front bed, but that's about it – which may be a good thing or a bad thing, depending on how you like to approach it.
SPACE RACE
Press a nearby switch and the slide-out section extends to create a very spacious and pleasant place to be. The L-shaped lounge is particularly neat – once the slide-out is extended the nearside arm pulls out and a cushion can be pulled from within its base to create extra space.
It's an ideal place from which to watch the flatscreen TV, once it's cranked itself into place from within its wall unit just near the door. The lounge itself is sumptuous, with easy seating for four.
Four people can be accommodated by the dinette too, which is equipped with four seat belts for carrying occupants on the move.
The dinette converts to a double bed, giving the Longreach the ability to sleep six, although it has to be said it would probably only be kids happily bedding down anywhere other than in the master. Certainly kids will love scrambling up the ladder to the loft-style forward bed, which is actually very roomy and comfortable once you're up there.
Resident chefs won't be left wanting, with the nearside kitchen boasting all the mod-cons and everything within easy reach.
There's a full Dometic oven with grill and four-burner cooktop (plus illuminated rangehood), with a large sink with flick/mix tap and water filter nearby. There are plenty of drawers and overhead shelves for storage while lifting a roller shutter reveals twin slide-out pantry racks, a slide-out drawer, and a slide-out bench for extra bench space.
The pantry is a neat little arrangement, and it sits next to a 186L three-way fridge/freezer. Everything is close by, and serving to the dinette is simply a matter of turning around.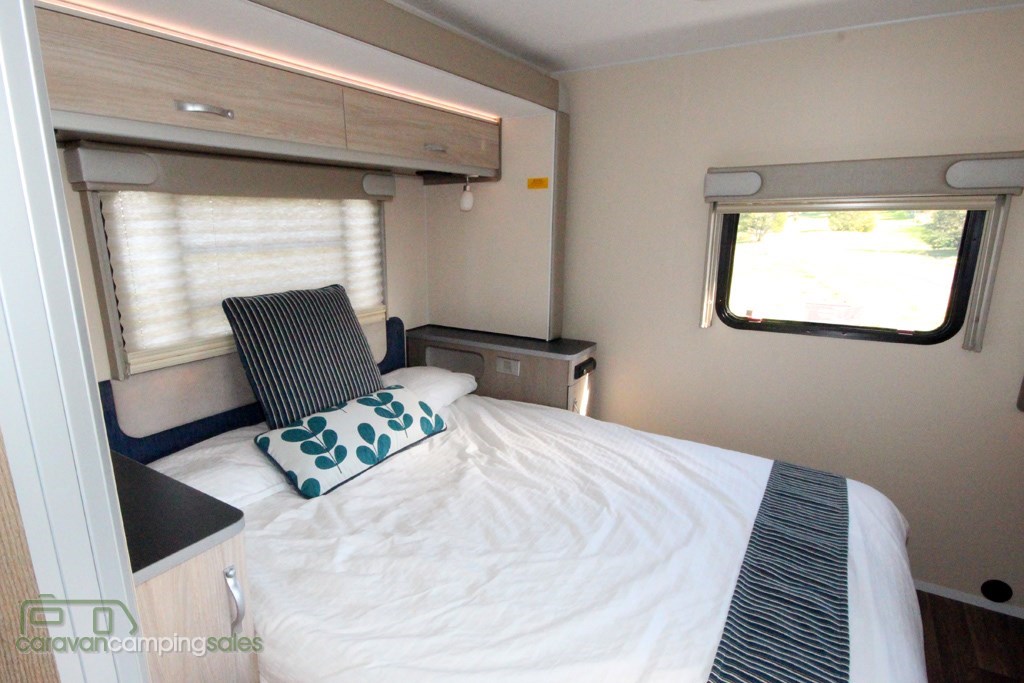 SWEET DREAMS
There's no privacy screen to partition off the master bedroom, which seems odd in a rig that can sleep six, but it's virtually impossible to find fault with the master itself. A second slide-out section gives plenty of room to move around the foot of the bed, which has a mattress that lifts up on a hydraulic strut to reveal a cavernous storage compartment.
The innerspring mattress is certainly comfortable and sizeable enough to accommodate this 188cm (6ft 2in) reviewer with ease.
There's a massive hanging wardrobe on the nearside next to a bank of drawers, plus more storage space either side of the bed. There's an entertainment system to the rear of the bed and yet another flatscreen on the nearside opposite.
The ensuite sees a spacious full-size shower on the nearside opposite a bathroom with vanity unit, bowl and tap, and a toilet. The toilet bowl is angled at 90 degrees so the, err, 'occupant' faces forward – meaning there's plenty of legroom and space in general.
There are hatches with fans above both the shower and toilet.
Manufactured at Avida's production facility in Emu Plains, in Sydney's western suburbs, the Longreach is presently the largest RV in the company's line-up.
The cabinetry is, in general, nicely put together and the pushbutton handles work with a positive action.
There were two blemishes on the report card, however – the rubber sealing strip along the bottom of the door had unpeeled and was hanging down (we fixed it back in place for the photos) and the mounting point for the hydraulic strut under the master bed had somehow been ripped clean out of the bed base.
Both easy fixes, undoubtedly, but surprising in a vehicle at this price point.
Externally there's a mass of storage available in the bins found either side of the Isuzu's chassis rails and at the rear there's a Hayman Reese tow bar with a monster 4000kg limit. That's enough to tow a small car for a quick dash into town for supplies, if needed.
VERDICT
The Longreach C9536 SL reviewed here comes with an asking price of $279,998. For most that's an eye-watering price but then for what is effectively a small house on wheels, you're paying the price of a small house.
Is it worth the money? Only you can decide – but the Longreach certainly offers a level of comfort, convenience and class unmatched by the majority of the motorhome fraternity. A camper trailer will never seem quite the same…
WHAT WE LIKED:
Easy-driving Isuzu truck
Spacious, comfortable living quarters
Extendable lounge with pop-up TV
NOT SO MUCH:
Mandatory Medium Rigid licence required
Broken bed strut
Big price to match the big dimensions
See the original review article as published on the Caravan & Camping Sales website.
Thanks to Caravan & Camping Sales for providing the photos below of the vehicle that was reviewed.