This independent review on the Avida B7944 Esperance motorhome was conducted and written by Malcolm Street from Caravan World.
Just like home – although 3000km from its Western Australian nameseake, the Avida Esperance made for a luxurious home-away-from-home along al equally stunning stretch of coast!
I can't deny, I felt high and mighty, both literally and figuratively, as I steered the 2014 Avida Esperance B7944 around the picturesque twists and turns of the Great Ocean Road towards Apollo Bay, on Victoria's south coast. As the editor of Caravan World's sister mag Camper Trailer Australia, I am more accustomed to towing much smaller RVs, RVs that often necessitate intricate set-up procedures which can leave one liable to pulling out one's own hair. How content I felt when I occasionally caught a glimpse of my ready-made home on wheels in the Esperance's rear vision mirror – a largely obsolete item whose only function was to enable me to gloat over my mobile estate. I was happy verging on smug to know that, upon arrival at my destination, I'd simply roll out the electric Dometic awning and pour myself a nice glass of sauvignon blanc. Now that's how to holiday.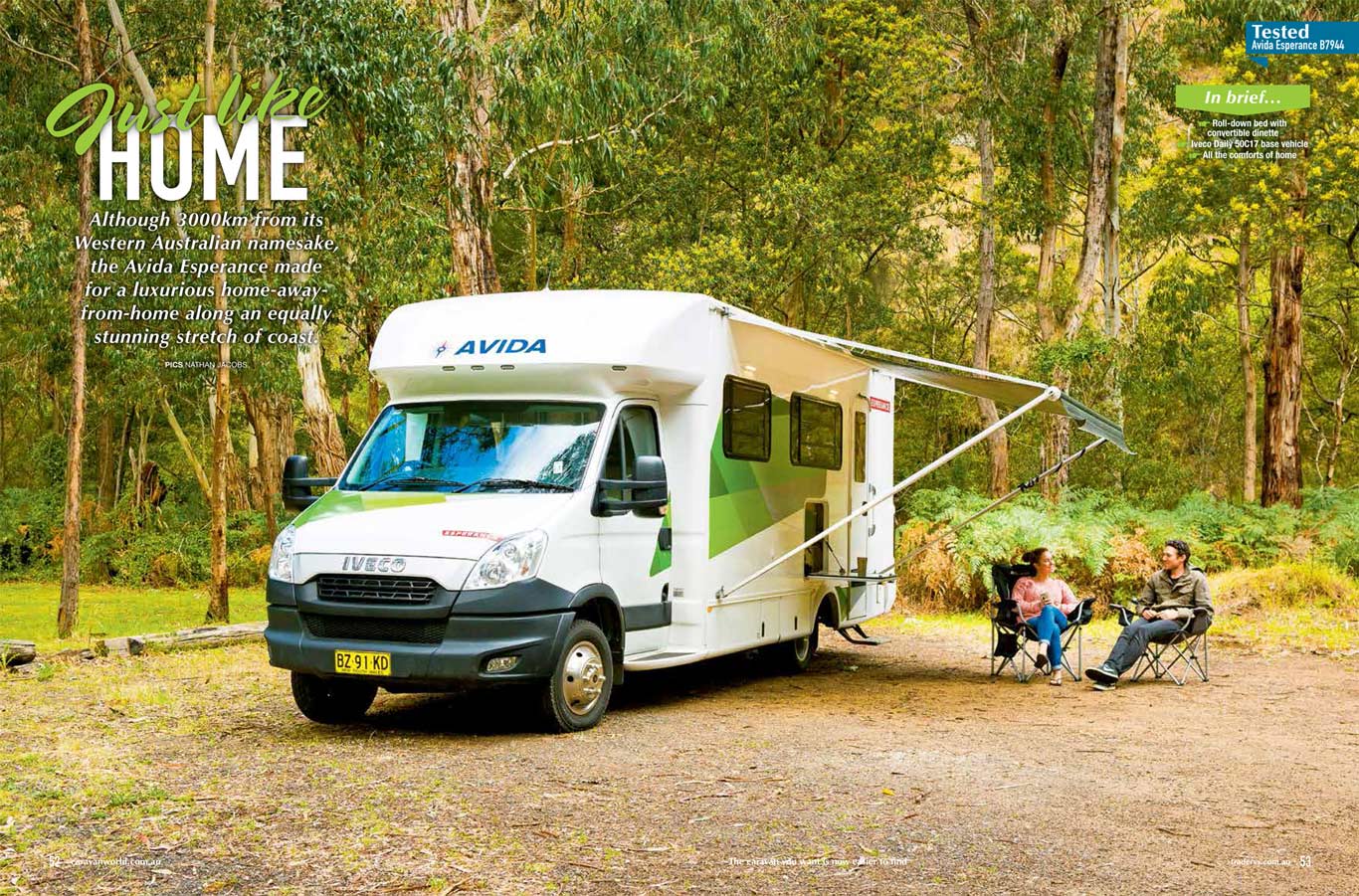 Interior Design
As far as the Esperance range goes, the B7944 is on the smaller side, with one dedicated queen-sized bed plus a convertible dinette, which would really only be suitable for two pre-teen children or one adult on the vertically challenged spectrum. The main bed drops down from the roof electronically via a button located in the kitchen, and can be positioned as low as hip-height or pressed tightly against the roof to reveal a large lounge room living area.
Here, there is a side-facing three-seater couch looking across to a television unit, out of which rises a flatscreen Teac TV electronically at the push of a button. The TV can remain in this position with the bed lowered, so movies in bed are a reality. That's a big win in my book. The TV has an inbuilt DVD player, and can be operated on mains or 12V power. There are shallow storage cupboards on either side of the TV, and the significant floor space between the couch and the telly is the perfect lounging area for kids and their sleeping bags for family time in the evenings. The floor is teak-look vinyl throughout, giving a warm and luxurious feel to the cabin. The test unit even had a second TV housed in the externally-accessed cabinet under the awning, in case alfresco viewing is more your thing. That to me just spells summer days watching test cricket under the shade of your awning with a beer in hand and a bucket of prawns on the table. Bliss.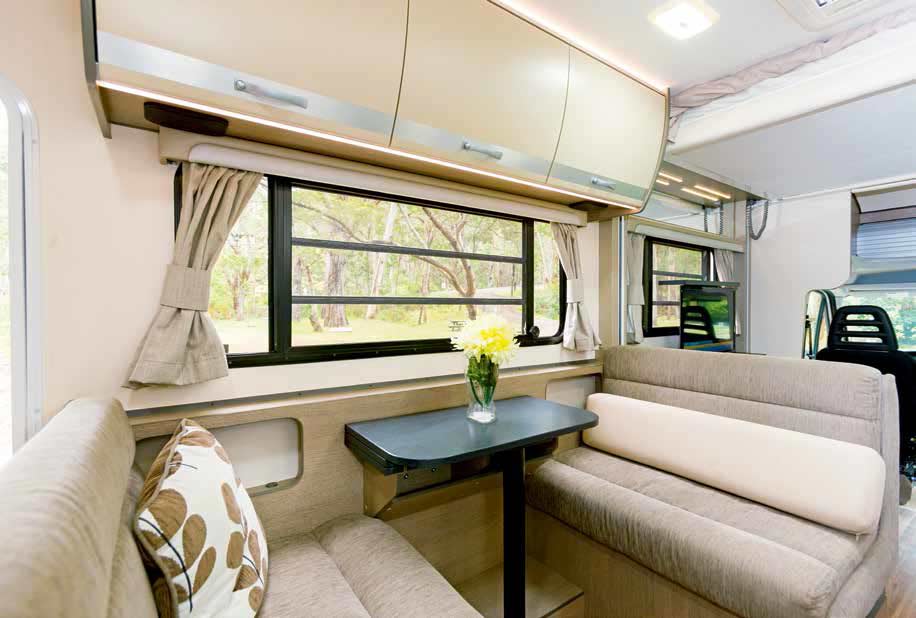 The bed itself is a very comfy memory foam number with plenty of ventilation from the twin windows at either end, which are protected by light-blocking curtains and have mirrors above them, which is a nice touch. A privacy curtain also shields the windscreen, so you aren't on display to the world in your PJs.
The Business Centre
Moving into the kitchen, you'll find all the modern appliances of home, including a four burner Dometic stove (three gas burners, one electric) with glass cover that sits flush with the bench for more working space. This unit comes complete with a grill and even an oven, plus a stainless steel rangehood with fan. There's a stainless steel sink with hot and cold mixer tap plus separate drinking water tap, a 150L upright Dometic fridge/freezer and a stainless steel microwave sitting above it. There's storage aplenty in the kitchen, with a full height slide-out pantry drawer with six shelves, three large storage drawers and a cupboard under the bench and three overhead storage compartments above the bench and microwave respectively, with another three on the opposing wall above the dinette. A fire extinguisher falls easily to hand from beneath the fridge.
From the kitchen, do a 180-degree turn and you'll be facing the four-seater dinette. Complete with removable swivel table, the dinette comes in your choice of 13 fabrics and the forward facing seat has two seatbelts. As mentioned, ideal for kids. The cabin is cooled by a 240V roof-mounted Truma air-conditioner, making these living areas a comfortable respite from the midday summer heat.
Behind the dinette, to the right of the entry staircase, is a wardrobe complete with clothes hanger hooks. This space is narrow but deep, and I found it tricky to access the hooks which are placed right at the back thanks to the cupboard's position over the stairs. Its functionality is, therefore, limited, and I imagine older travellers would have difficulty contorting and stretching in the manner that I had to in order to hang or retrieve my clothes.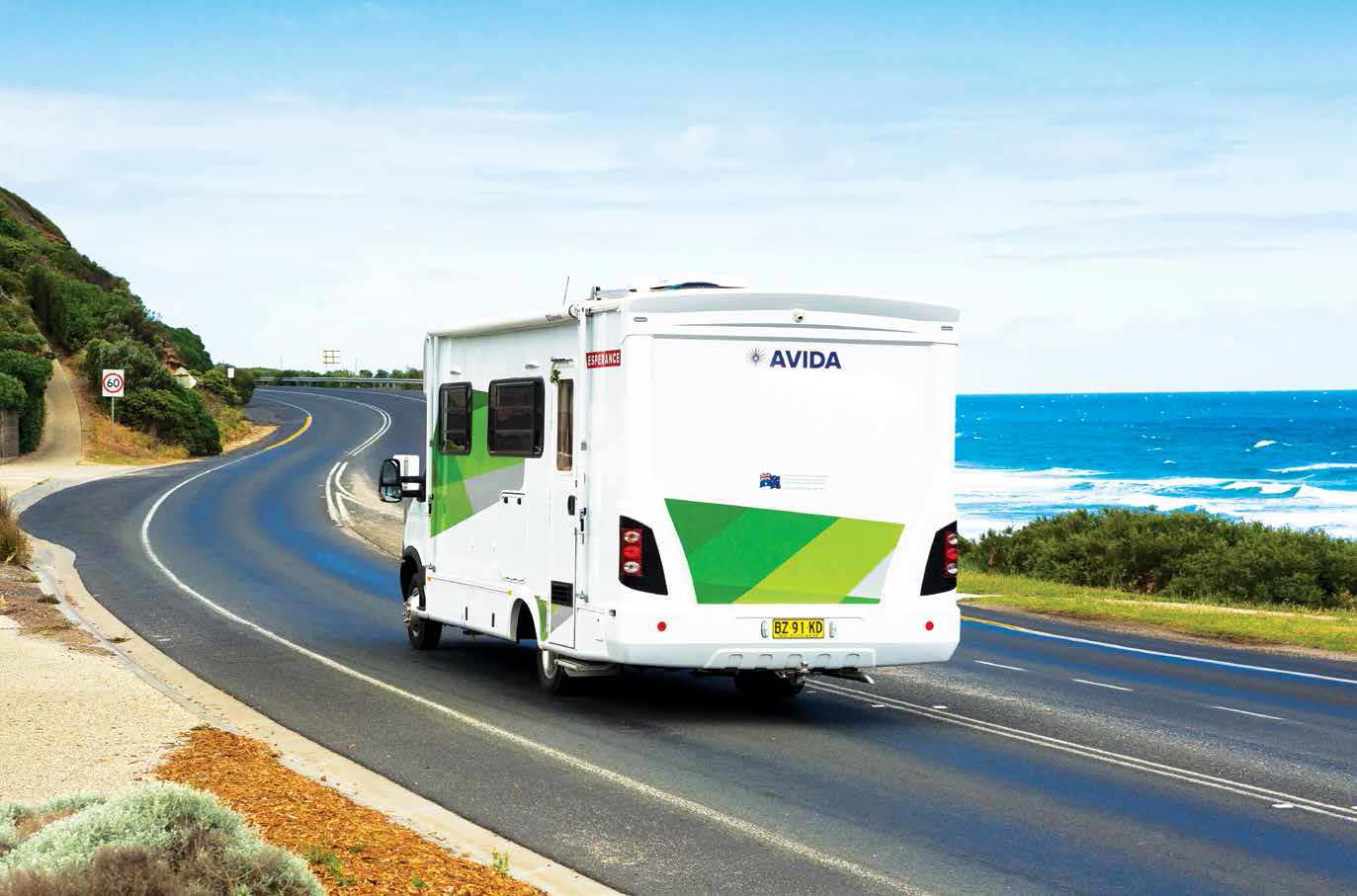 Get Clean
Alongside this is the rear bathroom, a well appointed affair with flushing Dometic loo, a stainless steel sink with hot and cold mixer tap, provision for a washing machine and a separate shower with ventilation fan, fuelled by the 100L on-board water tank. There's also an outdoor shower on the driver's side, perfect for hosing off sand and salt water. The bathroom has heaps of storage above and below the bench.
The motorhome's access stairwell deploys electronically, packing itself away as the vehicle starts. There is abundant lighting throughout the cabin, including roof lights, reading lights by the bed and – my personal favourite – mood lighting to give the cabin a lovely ambience in the evening. There are 12V and 240V outlets throughout, and when you're not on mains power it's all powered by twin 100Ah batteries with 22A charger and an on-board 150W inverter.
Riding Strong
The truck is an Iveco Daily 50C17 four-cylinder turbo diesel, which has adequate grunt, although the automatic transmission on the test unit was a little clunky, with acceleration slow to respond. To be fair, the unit was not brand new so perhaps was merely in need of a service.
The vehicle rides on 195/75R16 tyres with independent front suspension and four-wheel disc brakes. The motorhome is 7.94m long and 3.15m high, and requires only a regular car licence to drive, thanks to its GVM of 4495kg.
I found the cockpit to be spacious and comfortable, with an on-board Bluetooth sound system providing the soundtrack to the Great Ocean Road adventure. All in all, my first motorhome driving experience was very pleasant indeed!
The Bottom Line
While I make no claims to have sampled a vast and varied array of motorhomes, I thoroughly enjoyed my experience in the Avida Esperance B7944.
I found it comfortable and extremely well appointed, with every facility falling to hand in a logical and fuss-free manner. This ease of use made for a wonderfully relaxed holiday experience along one of Australia's most beautiful stretches of coast.
Now to save up all my pennies so I can buy one of my own!