This independent review on the Avida Birdsville motorhome was conducted and written by MY NRMA.
This is the start of a new journey for Australia's longest established motor home maker. The result of a drawn-out legal wrangle over the use of a name, Winnebago Australia has become Avida, Makers of the Australian Winnebago. Still built in the large state-of-the-art facility in Sydney's west, a bold, outgoing new look is the key to set Avida apart from the crowd.
Winnebago Motorhomes – These vehicles were not manufactured by, or by anyone having any association with, Winnebago of the United States.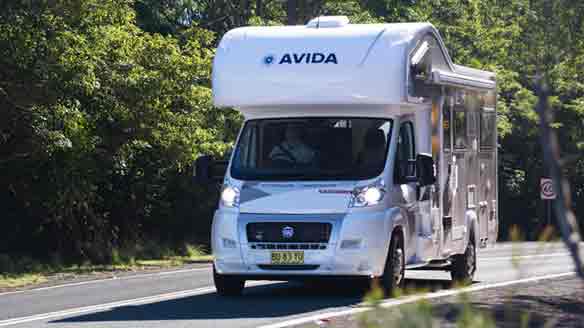 The Birdsville mid-size four-berth ensuite RV isn't new to the range, but a makeover both internally and externally gives this entry level RV a new purpose. The bold external graphic options have certainly divided opinion amongst the brands dealer network – one even peeled them all off in order to sell his first one – but we reckon it looks terrific. It be had in gold and silver or, if you prefer a more conservative look, white.
The material construction of the aerodynamic teardrop body hasn't changed – it's still based around a steel floor structure that acts to as a rigid base mount for the sides, front and rear, rather than the whole thing resembling a large, unbraced box. The front and rear sections are moulded in a single piece, as is the roof, which also serves to improve rigidity. Add to that a fiberglass outer skin, and the Birdsville presents very well out of the box.
The body is plonked on top of Fiat's excellent RV-specific Ducato chassis. The 130kW 3.0-litre four-cylinder turbo-diesel is a smart, willing performer thanks to its 400NM of torque, and is well complemented by a six-speed auto tranny with manual override. Steering feel is light, surprisingly precise for a truck chassis and is easy to handle around town. It's great to see a full suite of active safety measures fitted as standard, too, including stability control, traction control, ABS and driver's and passenger's airbags. It would be nice, though, to see reversing sensors or even a reversing camera offered across the range as an additional safety measure. Lap/sash belts are provided for an additional two passengers behind the driver.
A simple dashboard layout is topped by a bespoke TomTom sat-nav mount. You might like it, you may hate it, but it's a neatly integrated, well-executed solution to a fitting a portable sat-nav. The driver's position is excellent, though the seat itself could use more support, and there's nowhere to readily put a coffee or a water bottle with any sort of convenience while in transit; the single cupholder is too small and shallow to be of much use.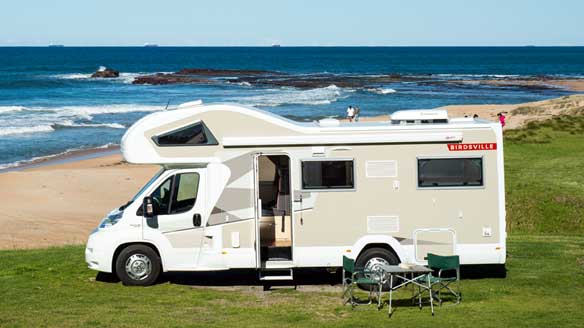 Avida Birdsville kitchenWalking through to the main cabin reveals a tastefully understated fit-out, another pillar of Avida's repositioning. A pair of captain's chairs swivel to face a small single seat and a small dining table with a bench that seats two. A three-burner Dometic gas cooktop is complemented by a small Spinflo grill and an equally small microwave oven. A three-way Dometic 150-litre fridge sits underneath. A DVD-equipped TV is hidden somewhat clumsily in a cabinet above the microwave – operated by a raft of confusing buttons and articulating arms, it's not a very elegant solution. It is, however, a much safer place to keep a potentially lethal object from flying about the cabin in the case of the unthinkable, and the arm allows it to be positioned for viewing from either the double bed or the dining/living area. You'll have to be judicious when you prep for dinner, as bench space is at a premium, despite the small extension over the door opening.
A double bed sits atop the driver's cabin, with the teardrop body allowing plenty of room for moving around. The rear bed is also a double, but with rounded ends it quickly becomes quite cramped quarters for two.
The ensuite is compact but sufficiently tall and wide even for a taller bather, and a retractable screen saves your towels and toilet paper getting wet! LED lighting is standard throughout the Birdsville, though the clear plexiglass grab handle with coloured LEDs is, erm, interesting. There's also a Dometic air conditioner up top.
Stepping outside, and you'll find a power outlet only on the right side of the van, on the opposite side to the excellent, easy-to-operate Fiamma awning. Plenty of belly locker space keeps the weight down low, while a 124-litre freshwater tank will cover park hoppers sufficiently. Avida fits the Birdsville with a large 100amp battery to complement the Fiat's own unit, and the RV can run on both 240- and 12-volt power. Two-way hot water and Avida's bespoke management panels round out a generous basic specification.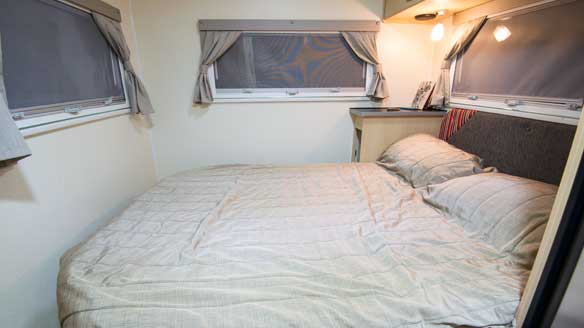 Even on tight and twisty roads, the Birdsville is a revelation to drive. The RV shell is noticeably more rigid than others that we've driven, and its large, stiff base serves to tie the chassis together more effectively. This translates into predictable, easy-to-manage handling that's complemented by a top-notch suspension tune that absorbs bumps and corrugations without sending excessive shock through the cabin. Wallow and sway is all but absent, and under a light load, it will easily trundle along at the national speed limit. The brakes have plenty of feel and modulation underfoot, too. Steering feel and weight is on the easy side, and you still need a good few armfuls of lock for tighter bends, but it makes for a package that's easy to drive for longer stints.
In use, the Birdsville's accommodation space is effective, if not excessive. Cupboards are conveniently and cleverly arrayed to make the most of the limited space, and the quality of the fit and finish across the board is notably high. With 14 new palettes to play with, you'll be able to build a Birdsville to suit your own style, too.
Summary
This is a great RV for a couple looking to make longer hops to noted destinations. It's amazingly easy to drive, even easier to set up at the end of the day and is equipped with a good selection of equipment to make powered-site camping comfortable. There are compromises to consider when it comes to the size of the main berth and the dining area, though, which is often the case in an ensuite-equipped RV.
See the original article posted on www.mynrma.com.au